Business Integrity Forum
CIF has set up the Business Integrity Forum (BIF), aiming to bring under one roof those corporations that strive to operate in an ethical, transparent, and accountable manner and wish to become a role model for other business actors.
The Business Integrity Forum (BIF) is a network of major international companies dedicated to cooperating with member companies who wish to reach and maintain the highest standards of business integrity.
Members publicly demonstrate support for the mission and values of CIF and are openly committed to high anti-corruption and ethical standards in business practices. Through the BIF, companies also have the opportunity to engage in discussion about strategic corruption issues and policy positions and thereby participate in the international debate on corruption. By participating in BIF, companies can also share with CIF their current developments, discussions, and issues in the business sector related to anti-corruption best practices. The Institute of Business Ethics (IBE) in the UK is supporting the BIF as from year 2022 by providing its expert advice and guidance to the BIF's members on corporate governance and business ethics matters and by providing at least one technical workshop on those areas every year.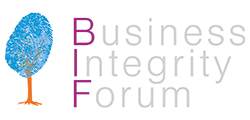 A growing number of companies worldwide increasingly recognize that doing business with integrity is the only right way of doing business. An emerging trend shows that companies are bolstering their principles and policies of transparency, ethics, and risk management, not just for legal compliance but also as an ethical and necessary part of good management. Consequently, companies today are approaching corporate responsibility and rigorous corruption prevention as part of their overall policy to manage their activities responsibly.
CIF has unrivalled knowledge and insight into these developments through closely following the activities of lawmakers, regulators, and government officials – as well as the practical – on-the-ground experience gained from Board Members diversity. This unique perspective is combined with a good understanding of the corporate sector through specialist staff and working closely with our BIF member companies. By becoming a member, you will be supporting our work and be recognised for your contribution.
Essentially, participation in the BIF allows companies to:

Enable stronger confidence, a better reputation, and more business
Identify risks early and prove that measures are in place
Routinely monitor and improve controls
Manage risk across the business, including supply chains
Continually improve and deliver best practices in managing risk
Members of BIF will be entitled to the following benefits:
Participation to at least one key workshop by the Institute of Business Ethics as well as provision of various IBE tools and publications to guide and enable BIF members to enhance their corporate governance and thus strengthen their business ethics outlook to their stakeholders
Annual workshops/presentations with special guests focusing on compliance, transparency, corporate governance and business ethics issues
Receipt of a newsletter specifically made for BIF members focusing on public and private sector projects and challenges, international best practices on corporate ethics, and events of dedicated institutions
Invitation to all events of CIF and associated organisations
AnnualMembershipMeeting
Use of the BIF logo on all their company's social media and correspondence
Appearance of the Company Name and Logo on CIF website
A membership certificate and other appropriate recordings of your membership on various CIF promotional material
Half-day annual consultation on the progress of self-assessment checklist (optional)
Credential for the annual Business Ethos Award, which is under the auspices of the President of the Republic, and is also endorsed by the IBE and the CCCI
Cyprus Integrity Forum does not expect that all Business Integrity Forum members will already have a perfect anti-corruption program in place.
However, companies aspiring to reach such high integrity standards should already have or are committed to putting in place a program that will match this aspiration.
Members of the Business Integrity Forum of CIF:
Demonstrate commitment to operating to high standards of integrity and transparency
Have, or will put into place within a stated period, a detailed anti-bribery & corruption policy
Show commitment to implement the anti-bribery & corruption policy throughout their operations and have, or will put into place, monitoring, and evaluation process to ensure effective compliance with the Company's policy
Annual Membership Fees
Turnover: >5 m Euro
Fees*: €2.500
Turnover: <5 m Euro
Fees*: €1000
There is a one-time registration fee of €500 to cover the cost of due diligence
* CIF is a registered charity institution, and hence all subscriptions are treated as contributions with the appropriate tax and other benefits.
Membership to BIF is by invitation only to companies that are considered of good standing, are promoters of anti-corruption initiatives, practice integrity in leadership, and good governance.
Before considering a company to join the Business Integrity Forum (BIF), CIF carries out due diligence to satisfy itself that the Company shares the CIF's Guiding Principles and the Board of CIF is responsible for review and approval.
Corporations that accept the invitation to join the BIF are expected to dully sign the Supporting Agreement before joining the Forum.
The Supporting Agreement is subject to final approval by the CIF Board
CIF will issue a Certificate of Membership.
BIF Members