Marina Nicolaou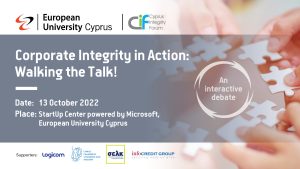 European University Cyprus (EUC) and the Cyprus Integrity Forum (CIF) are organising for the first time in Nicosia an interactive debate titled "Corporate Integrity in Action: Walking the Talk!". The debate is addressed to students, academia, industry leaders, and practitioners on issues regarding integrity in business, money laundering, gender equality, and diversity in business.
The debate will take place on 13 October 2022 at 4:00 – 6:00 p.m. at the Start-Up Centre of European University Cyprus.
The main speakers of the event are
–  Ms. Victoria Penrice, Honourable President of the Chartered Governance Institute UK & Ireland,
–  Ms. Ana Daroy, Director of Globepoint Investments Limited, and
–  Dr. Simona Mihai-Yiannaki, Chairperson of the EUC Department of Accounting, Economics and Finance.
The event will be launched by Mario Skandalis, Chairman of CIF, and Dr. Pieris Chourides, Dean of the School of Business Administration at EUC, while closing remarks will be made by Elena Tanou, Vice-President of CIF.
Supporting the event are: Logicom, Cyprus Chamber of Commerce and Industry, The Institute of Certified Public Accountants of Cyprus, and Infocredit Group.
For  RSVP online please register by 10 October 2022 on the following link: https://forms.office.com/r/uV1tRvQPzr