Marina Nicolaou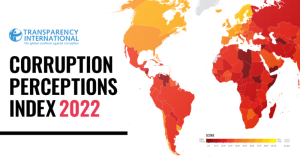 The global organisation TRANSPARENCY INTERNATIONAL has publicised today the 2022 Corruption Perceptions Index (CPI) which includes 180 countries on the public sector corruption index. This index, as indicated by its title, states experts' and professionals' perception from reputable global
organisations such as the World Bank and World Economic Forum.
The CPI gives a score of 100 to a "Very Clean" country, whereas a score of 0 goes to "highly corrupt". The score indicates that most countries are failing in combating corruption, with more than two thirds ranking under 50. Despite some scattered efforts, 155 countries show lack of improvement from 2012 onwards. The reasons: lack of World peace, illegal dealings, and a flow of cash of unspecified origin in some countries, are some of the factors that contribute to sustaining the problem.
Based on this index, Cyprus ranks in the 52nd position, one place lower than last year at the same position as Greece. It is worth mentioning that this deterioration is ongoing for the past 5 years, since the scores Cyprus receives are declining every year: 2018: 59, 2019: 58, 2020: 57 and 2021: 53
CYPRUS INTEGRITY FORUM for one more time warns all relevant stakeholders and primarily the State, to take action, as this specific indicator mainly concerns the Public Sector.
The impact of this indicator, not only on the reputation of our island, but also on the economy of our country is critically important, since it affects the level of investments injection from abroad as well as tourism.
It is imperative to shift from words to PREEMPTIVE ACTION, to EFFECTIVE ACCOUNTABILITY and to EXEMPLARY PUNISHMENT!